Where to Live in Memphis: An Expert's Guide to the 8 Best Neighborhoods
Posted by John Quinn on Monday, February 7, 2022 at 6:24 AM
By John Quinn / February 7, 2022
Comment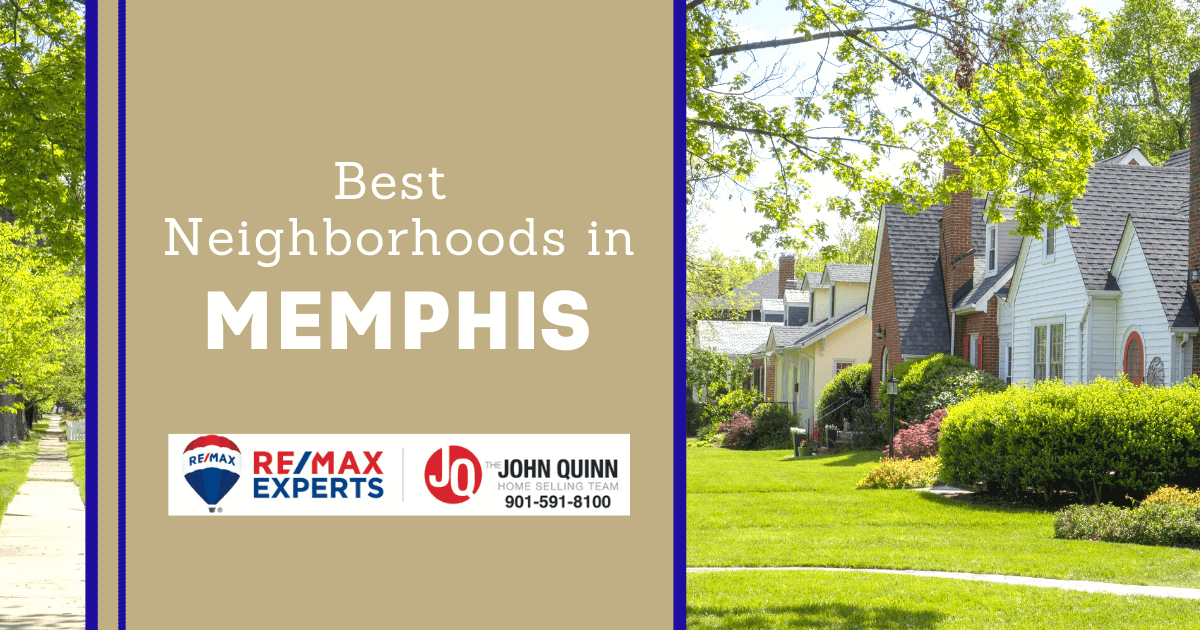 With a population of about 650,000, Memphis is the largest city proper situated on the Mississippi River. It is the county seat of Shelby County and the anchor of West Tennessee and the Greater Mid-South region, including portions of Arkansas, Mississippi, and Missouri.
Hernando de Soto was the first European to visit the region in 1541. The English and French contested the area as Memphis took shape. Three prominent Americans — Andrew Jackson, John Overton, and James Winchester — founded the city of Memphis in 1819. The town quickly grew to one of the largest.
Memphis is also known as the home of Blues and for its barbecue. Those interested in moving to the area can read on to learn about a few of Memphis' best neighborhoods.
Central Gardens
Central Gardens Amenities
Within walking district to many of the city's best eateries, parks, entertainment, and shopping
Designated a Level 3 arboretum, with more than 90 species of trees, many more than 80 years old
Convenient location: Easily accessible to I-69 and about eight minutes from downtown
Beethoven Club of Memphis, which promotes classical music and sponsors free concerts
The Central Gardens community is a planned neighborhood created in 1906 with exciting and eclectic architecture. The 83-block neighborhood has grand boulevards, shared greenways, and ordered space. Most of the buildings in its 511 acres are residential. Its name derives from the neighborhood's "centering" on Central Avenue in Midtown and its resemblance to the famous Garden District in New Orleans.
In 1983, Central Gardens was listed on the National Register of Historic Places. On its annual survey, Memphis Magazine consistently lists it as the 'Best Neighborhood' in the city. York Avenue borders the area to the south, Eastmoreland Avenue to the north, Rembert Street to the east, and Cleveland Street to the west.
Housing styles vary and include bungalows, craftsmen-style homes, and four squares. Building materials include stucco, brick, limestone, clapboard, and wooden shingles, with many homes combining two or three materials. Prices vary, typically ranging from the $100,000s to more than $1 million.
Popular restaurants in the neighborhood include Central BBQ, which features slow-smoked Memphis-style meat, and Iris, a fine-dining French restaurant with a slight Creole flair. Central Gardens hosts an annual home and garden tour of about 2,000 people.
Cooper-Young
Cooper-Young Amenities
Several excellent art galleries and antique shops
Convenient location, close to downtown
Highly walkable and features a Pedestrian Plaza
Interesting Victorian and craftsman architecture
An eclectic and historic neighborhood in Midtown, the Cooper-Young community derives its name from Cooper Street and Young Avenue. The Cooper-Young trestle, a long steel sculpture created by Jill Turman, marks the entrance to the neighborhood. The American Planning Association lists Cooper-Young as one of the 10 greatest neighborhoods in the United States. It also won a citywide Urban Art Vision Award in 1999. The annual Cooper-Young Festival, a mix of art, music, and crafts, draws about 130,000 people.
Cooper-Young began in 1890 when Mount Arlington Subdivision was founded and is in the National Register of Historic Places. Many neighborhood homes are 100 years old and in bungalow or craftsman style. Some have been renovated; others are good values for someone who wants to remodel the home themselves. All the houses in the neighborhood are single-family detached dwellings. Prices typically start in the low $100,000s and go to more than $500,000.
A favorite spot is Alchemy, a restaurant and wine bar that serves dinner and Sunday brunch. Another is Young Avenue Deli, which boasts the largest beer selection in Midtown and award-winning fries. Celtic Crossing is a popular Irish pub.
Harbor Town
Harbor Town Amenities
Fully contained neighborhood within easy access to downtown
Trail parks, including Music Park and the Wetlands Park
Six ponds
Adjacent to the Mississippi River Greenbelt and Wolf River Greenway
Views of downtown and the river
Accessible to Vintage Trolley Line
The Harbor Town community is a 132-acre master-planned neighborhood located on Mud Island, a peninsula just north of downtown Memphis. The community developed in the 1980s, and in 1987, a bridge was built linking the island with downtown. The peninsula connects to downtown, and downtown is visible from the island. However, the community also is self-contained. Much of daily life in the neighborhood revolves around the beach. Unique festivals take place on the neighborhood's main street.
The community features several waterfront homes, a yacht club, and a marina at its entrance. Harbor Town has intersecting north and south boulevards, tree-lined streets, trails, and ponds.
The neighborhood features a mix of townhomes, single-family homes, and commercial development that includes a retail center, wellness center, grocery store, and other services. Home styles range from traditional row homes to modern homes and apartments. Home prices vary widely, typically starting from the $100,000s to more than $1 million.
Harbor Town is one of the most walkable neighborhoods in Memphis, and shops and restaurants are within walking distance. Some dining options include Tug's Casual Grill, Terrace at the River Inn, and Paulette's.
Midtown
Midtown Amenities
Overton Park, which includes trails, a playground, a lake, an auditorium, a 9-hole golf course, and the Memphis Zoo
Easily accessible to downtown
Liberty Bowl Stadium, home of the University of Memphis Tigers
Variety of cultural, dining, and shopping experiences within the community
The Midtown community is east of downtown and west of East Memphis. Its boundaries are not entirely defined, but I-240 represents the western border. Midtown encompasses several diverse neighborhoods and has beautiful architecture. Residents can be downtown in minutes.
The area features historic homes, many of which have been restored with modern conveniences and tree-lined streets. Some, however, are not yet fixed. Prices usually range from the $100,000s to more than $1 million. Most homes are single-family; however, a few townhomes and condos are available.
Overton Square is the heart of the community and includes shopping, dining, fitness, and entertainment venues. It is the home of Ballet Memphis, the Hattiloo Theatre, Playhouse on the Square, and the Malco Studio on the Square film company. The Art Studio of Memphis provides art classes. Twelve restaurants are within Overton Square.
Downtown
Downtown Amenities
The University of Memphis and its sports and cultural events
Excellent river views
More than 300 acres of parks and pedestrian walkways, including the River Walk
Wide range of home types, styles, and prices
Downtown Memphis includes several neighborhoods and is located on bluffs along the Mississippi River. It has recently undergone a revitalization, and Money magazine lists it as one of the 10 Best Places to Launch a Startup. Famous Beale Street is located downtown and includes dining, shopping, and entertainment venues. The iconic Peabody Hotel, which includes a restaurant and spa, is located downtown.
The Memphis Farmer's Market is popular from April to October and is in the Central Station Pavilion. The downtown community also hosts several annual festivals throughout the year.
Downtown residents can choose from various home types, styles, and price ranges. Condos, townhomes, lofts, and single-family dwellings with river views are expensive, but properties in other downtown locations are more affordable. The average price is about $200,000.
South Main Arts District
South Main Arts District Amenities
Vibrant arts scene, including Mosaic Artwalk
Orpheum Theater and Halloran Centre for the Performing Arts
Museums including the Civil Rights Museum and Blues Foundation's Blues Hall of Fame
An eclectic mix of architecture, both historical and modern
The South Main Arts District is a one-square-mile neighborhood one block south of Beale Street in southwest downtown. It originally was Memphis's first suburb, the location of the first modern grocery store, and the place where rock and roll music was first played on the radio. The neighborhood is currently undergoing redevelopment, bringing new construction homes, restaurants, and shops. About 2,500 people live in the South Main Arts District.
Residents can choose from condos, townhomes, or single-family homes, some of which are renovated historic homes and others are new constructions. Some are in gated communities. The median home price is about $240,000.
The neighborhood has several community events, including once-a-month Trolley Nights and neighborhood socials. It also is home to many restaurants and shops. The Wiseacre Brewery is a new hotspot. Hustle and Dough is an all-day bakery, and Bar Hustle is a small cocktail bar serving pizza. The Puck Food Hall has several eateries under one roof. New shops include Feelin' Memphis and Paper and Clay gifts shops and South Main Book Juggler, which sells new and used books.
Binghampton
Binghampton Amenities
Green space including Binghampton Park
Caritas Village Community Center
Hampline bike path
Variety of nightlife and dining options within the neighborhood
The Binghampton community is an affordable neighborhood in central Memphis. The CSX railroad borders it in the north, Holmes Street in the east, Poplar Avenue in the south, and East Parkway North and North Trezevant Street in the West. It includes the Broad Avenue Arts District.
In May 2011, French artist Guillaume Alby painted a 1,800-square-foot mural on the 2500 block of Broad Avenue; other mural projects followed. Binghamton began as an independent town in the late 19th and early 20th centuries. Memphis annexed it as part of its eastward push in 1919.
Binghampton features bungalows, brick cottages, and single-family homes. Neighborhood redevelopment is creating opportunities for new construction homes, as well. The median price of housing is about $135,000.
Most of the commercial and retail buildings within the neighborhood are along Broad Avenue. The Cove is a pirate-themed bar that serves oysters on the half shell. Maximo's on Broad offers tapas, seafood paella, and sangria.
University District
University District Amenities
Close to the University of Memphis with its sports and culture
Near Red Acres and Links of Galloway, a public golf course
Vibrant nightlife
Affordable housing
The University District consists of about 360 residential and commercial buildings to the west of the University of Memphis campus. Bordering the neighborhood are Poplar Avenue on the north, Deloach Street and Patterson Street on the east, the Southern railroad tracks and Walker Avenue on the south, and South Highland Street on the west. Most of the land came from the Normal School subdivision in 1912.
The University District is now composed of several distinct subdivisions. The median home price is about $172,000, although some homes are available for less than $100,000.
Most bar and restaurant action happens on Highland Row, a city nightlife staple. Brother Juniper's is a popular breakfast and brunch spot, Newby's is a popular bar with a pool hall and concert hall, and Mediterranean Grocery has an extensive collection of Middle Eastern foods and housewares.
Thinking About Relocating to Memphis?
This great Southern riverfront city has a rich history and culture, and its several distinct neighborhoods provide homes of many types and styles to fit any budget. Those moving to Memphis will find the city has a lot to offer, from fun things to do to outdoor activities to explore.